Kinesiology and Health Sciences, BS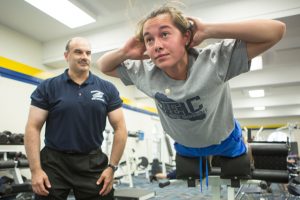 Kinesiology, also referred to as applied physiology, is a stimulating area of study that is fast growing and multi-disciplinary. Kinesiologists study the interaction between the human body and physical activity and are able to apply their knowledge and skills to help people improve physical performance, fitness and quality of life. Kinesiology is an area of study with tremendous applicability to a host of professions that include competitive sports, recreation, health and wellness, rehabilitation, medicine and military.
The Kinesiology and Health Sciences degree program is designed for students who are interested in studying the body of knowledge of human movement and would like to pursue a career in kinesiology, sports medicine or allied health. Students in this track receive a broad range of courses that focus on the scientific basis of human movement such as anatomy and human physiology, exercise physiology, metabolism, kinesiology, biomechanics, and biochemistry.
These courses emphasize critical thinking skills and provide students with research opportunities. In addition, the program has the flexibility by which students can tailor their academic program to meet their career objectives. Many graduates of this program have gone on to medical school, chiropractic school, and graduate programs in physical therapy, occupational therapy and kinesiology.
The department also prepares students to sit for the National Strength and Conditioning Association's (NSCA) certification exams (certified strength and conditioning coach and certified personal trainer). The department is also a NSCA education recognized program for strength and conditioning.
Students in the Department of Kinesiology and Health Sciences are required to attend at least four meetings/conferences during their academic career at The College of New Jersey. These requirements are intended to maximize the student's experience in their profession, learn about networking and keep abreast of the latest in health and kinesiology. Proof of attendance must be submitted to the student's adviser.
There is a Kinesiology and Health Sciences Club that helps students within the department learn more about the various professions within the major, and students are also encouraged to join their respective professional organizations.